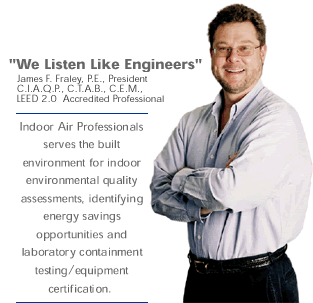 Commitment at the Top
James Franklin Fraley, President of Indoor Air Professionals, has been working with mechanical systems design for institutional, commercial and governmental facilities since 1986. A graduate of the University of Kentucky in Mechanical Engineering, he is a licensed professional engineer.
A Certified Indoor Air Quality Professional, as well as Certified Testing, Adjusting and Balancing Professional, Certified Energy Manager, and LEED 2.0 Accredited Professional, James has comprehensive knowledge and broad experience with the design, installation and testing of mechanical building systems. This foundation provides his company the know-how, experience and equipment to diagnose the toughest indoor air quality problems and offer recommendations for corrective action.
We want to provide you with the level of service best tailored to your needs. Expensive testing is not performed unless warranted as part of the process. Our specialized equipment, experience, extensive training, certifications and professional team help provide a successful resolution of your challenges. Your system will work properly and the people in your building will stay healthy and productive.